Robeson Pavilion Room C
---
Meeting rooms are available by reservation, with reduced capacity. You'll need to speak with a staff member to reserve a room. Call 217/403-2050.


This room sits just across from Room A & B in the Robeson Pavilion. The maximum temporary capacity is 8 people.

You can find a full list of room options on our Meeting Room Policy page.
Setup options
Robeson Pavilion Room C is located on the first floor. Room fee for profit and non-resident groups: $25/Hour
Setup options:
• Board Room – Max occupancy 8
• All other setup options are temporarily unavailable

---
Updated March 29, 2021
Quick links
---
Robeson Pavilion Rooms
A & B, C (1st floor)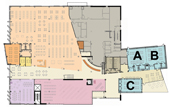 ---
Available equipment
Standard with the room
Wifi
Projector
Screen
Podium
Sound System
---
Meeting Room Reservations
217/403-2050
librarian@champaign.org