Robeson Pavilion Room C
---
This room sits just across from Room A & B in our pavilion. The room capacity is just slightly less than for Room A or B, with a maximum capacity of 50 (open room).
Setup options for Room C
The diagrams below show standard setup options for Room C. Custom setup costs $25. Note that a stage configuration is not available in this room.
Quick links
Meeting Room Policy
Reserve a Room Online
Manage Reservations

---
Robeson Pavilion Rooms
A & B, C (1st floor)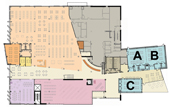 ---
Available equipment
Standard with the room
Wifi
Projector
Screen
Podium
Request during reservation
Portable Whiteboard
Kitchenette ($25)
Special setup ($25)
---
Questions? Ask us.
Administration
M-F 9-5
217/403-2050
librarian@champaign.org