Robeson Pavilion Room C
---
This room is just across the hall from Rooms A & B in the Robeson Pavilion.
Note: There is no sound equipment in this room. For presentations using sound, please bring speakers to plug into your laptop. Or book Rooms A & B.
You can find a full list of room options on our Meeting Room Policy page.
Robeson Pavilion Rooms C is located on the first floor. Room fee for profit and non-resident groups: $25/hour
Setup options
Standard setup:
Auditorium – Max occupancy 45
Conference – Max occupancy 40
Classroom – Max occupancy 30
Board – Max occupancy 20
U-Shaped – Max occupancy 20


Note that a stage configuration is not available in this room.
---
Updated January 18, 2022
Quick links
---
Robeson Pavilion Rooms
A & B, C (1st floor)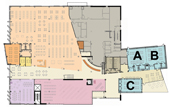 ---
Available equipment
Standard with the room
Wifi
Projector
Screen
Podium

Request during reservation
Portable Whiteboard

Special setup ($25)
---
Meeting Room Reservations
217/403-2000
librarian@champaign.org