Robeson Pavilion Room C
---
This room is just across the hall from Rooms A & B in the Robeson Pavilion.
Note: There is no sound equipment in this room. For presentations using sound, please bring speakers to plug into your laptop. Or book Rooms A & B.
You can find a full list of room options on our Meeting Room Policy page.
Robeson Pavilion Rooms C is located on the first floor. Room fee for profit and non-resident groups: $25/hour
Setup options
Standard setup:
Auditorium – Max occupancy 45
Conference – Max occupancy 40
Classroom – Max occupancy 30
Board – Max occupancy 20
U-Shaped – Max occupancy 20


Note that a stage configuration is not available in this room.
Catering your next meeting
Looking for catering? We can help! We offer catering for meetings in the Robeson Pavilion. You can choose from a wide variety of refreshments—everything from coffee and pastries to breads, sandwiches, and more. Order catering »

To talk about options and get pricing for special events, contact Library Café staff at 217/403-2000.
---
Updated April 4, 2022
Quick links
---
Robeson Pavilion Rooms
A & B, C (1st floor)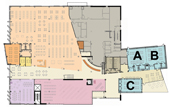 ---
Available equipment
Standard with the room
Wifi
Projector
Screen
Podium

Request during reservation
Portable Whiteboard

Special setup ($25)
---
Meeting Room Reservations
217/403-2000
librarian@champaign.org