Meeting Rooms
---
Study rooms are available 2 hours daily, for up to 2 people. Reserve a study room »

Meeting rooms are available by reservation, with reduced capacity. You'll need to speak with a staff member to reserve a room. Call 217/403-2050.

---
Community groups are welcome to meet at the library.

The library offers a variety of beautiful spaces for groups, as well as free study rooms.
We provide use of meeting rooms at no charge for nonprofit and volunteer groups, as long as the person reserving the room is a City of Champaign resident.
You can find a full list of room options on our Meeting Room Policy page.
Maximum room capacities have been temporarily adjusted based on guidance from public health officials.
In compliance with state health regulations, no eating is permitted in the library.

About booking a meeting room
Groups may have up to 12 reservations in place at a time.
Reservations can be made up to a year in advance, but no less than 48 hours before the event, so that we can plan for setup.
Please complete payment for your reservation no later than 48 hours before your meeting.
Please leave the room clean and in good condition. If excessive cleanup or any damage repair is required after your meeting, you will be charged $60 per hour (minimum charge $25), or the actual cost of the repair.
About using our meeting rooms
Wifi, a projector and HDMI or VGA/Audio cable are available in all our meeting rooms. Please bring your own laptop with an HDMI or VGA port or adapter.
To play a Blu-ray or DVD, please bring a laptop equipped with a player.
Microphone and sound system are available in Robeson Pavilion Rooms A&B&C.

Please help us keep the library looking neat and clean. We ask that your group keep all tables and chairs inside the room you are using. Signs may not be placed in the lobby or anywhere outside your room. To display items, you may wish to bring floor easels. Do not attach anything to the walls, doors or chair rail.
You are responsible for the room during your entire reserved time. If you leave early, please notify staff, so we can secure the room.

---
Updated March 29, 2021
Quick links
---
1st floor meeting rooms: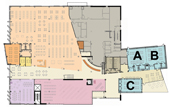 2nd floor meeting rooms: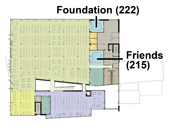 ---
Meeting Room Reservations
217/403-2050
librarian@champaign.org