Lobby Installations

---
Since 2017, local artist Adriane Binky Donley has dreamed up breathtaking installations for the library lobby. Our community has benefited from her wonderful work—every time people walk through the front door and are greeted by thousands of hand-painted butterflies soaring from the ceiling or dazzling red umbrellas during spring rains or gigantic delicate snowflakes.




The Year of the Tiger · February–April 2022
On display during Boneyard Arts Festival, April 1–3


"The heart of this installation is centered around Chinese New Year and the Year of the Tiger. I wanted to highlight a celebration that embodies embracing traditions while honoring our past and moving us towards a positive and brighter future.

With the help of my co-creator, Yu Wendy Wu, we developed a modern version of the beautiful red lanterns that are part of this 3500-year tradition. Each lantern includes the Chinese characters for good fortune or the Year of the Tiger. Each tassel includes an interpretation of ancient Chinese iconography associated with the tiger. Every element of the installation has purpose, meaning, deep sentiment, and respect for this beautiful culture and celebration.
An antique prop from a Chinese opera was the inspiration for the large tiger, crouching in the front window. The magic behind this fresh look at an historical image—every curve and the twinkle in its eye—is due to the artist Minghan Ma. Everything about this image reflects the spirit of the tiger: brave, competitive, unpredictable, and confident.

My co-creators and I hope that our work reflects the joy, traditions, hope, and luck for a bright and brave 2022 Year of the Tiger."
—Adriane Binky Donley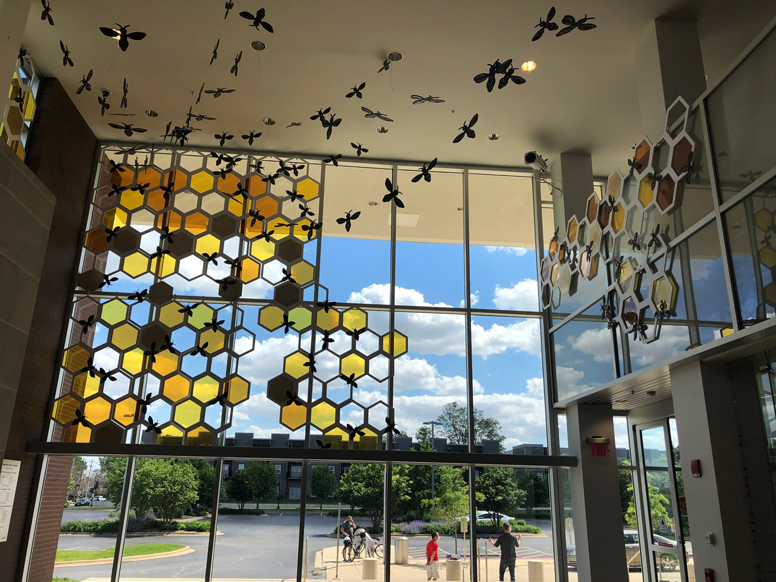 Made possible with support from the Library Friends and Library Foundation.
---
Questions? Ask us.

Evelyn Shapiro
Promotions Manager
217/403-5365
eshapiro@champaign.org