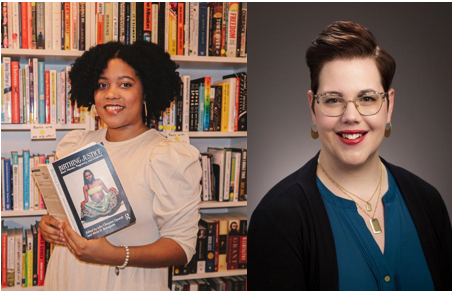 New Year, New Opportunities
Thu, Jan 12, 2023
6:30 pm – 7:30 pm
As we review our accomplishments and set new goals, Isis Rose and Jancie Harris will help us realize our potential and start the year with success.
Isis and Jancie will guide us as we pursue new opportunities and prepare ourselves for a new job or career. In this workshop, we will focus on:
Assessing ourselves as professionals
Transferring our valuable skills
Readying ourselves for any opportunity
Looking for a career change, a new opportunity, or a chance to network? Join us at the library's upcoming Community Job Fair!
About the Presenter:
Isis Rose is a student midwife, doula, CLC, anthropologist, and Co-Founder and Executive Director of BIPOC for Better Birth, Inc. After researching birth justice in grad school and planning home births, Isis became a passionate supporter of midwifery and out-of-hospital-birth. She currently studies at Commonsense Childbirth School of Midwifery with plans to become a licensed, certified professional midwife.
Jancie Harris is a multifaceted administrator, teacher, musician, and leader with a passion for cultivating partnerships and programs that support diverse communities. She currently serves as Public Engagement Coordinator in the Office of the Chancellor at the University of Illinois at Urbana-Champaign where she supports the work of the Campus-Community Compact to Accelerate Social Justice and other public engagement programs.
An in-demand freelance performer, Jancie is a musician and educator by training with over 25 years of musical performing experience and 15 years teaching students of all ages. She has participated in the University of Illinois Emerging Women Leaders Seminar and Inclusive Illinois Leadership Series, as well as served as a member of the Grainger College of Engineering Anti-Racism Task Force.
Jancie serves her community through participation with C-U One-to-One Mentors, her church, and she is a member of the Champaign-Urbana Symphony Orchestra. Most recently, she has enjoyed a "new beginning" in her role as a working mom, and she spends her free time reading, crafting, and exploring the Champaign-Urbana arts scene.
Career questions? We can help. champaign.org/career
Main Library, Robeson Pavilion Room C
The Library is committed to making events accessible for all. To request an accommodation, please complete this form, or contact us by email at librarian@champaign.org, by phone at 217/403-2000, or through chat. Learn more about accessibility at the library.